This gluten free pie crust isn't like a regular, flaky pie crust (I'm still working on that one). It's more like a cookie….almost. It has a bit of crunch, a little sweetness, and buttery all around.
It's multipurpose too. The picture here shows a pumpkin pie filling, but you can use it in any recipe that calls for pie crust. If using it in a sweet recipe, you can add more honey to taste if you like. If you're going for a savory filling, leave the honey be.
While you're making this, mold it into the pie plate almost like you would like a graham cracker crust. The dough is going to be soft and delicate so you'll need to press it into shape. And by the way, the 1/2 cup of shredded coconut can be taken out if you don't want that extra "coconuttyness."
Oh, and if you need a pre-baked pie crust, bake this at 350 degrees F for about….15 minutes maybe? Just keep an eye on it and take it out when it's a nice light golden color. It'll vary from oven to oven.
I have another fall recipe coming very soon, so stay tuned!
Sarah:)
Gluten Free Coconut Flour Pie Crust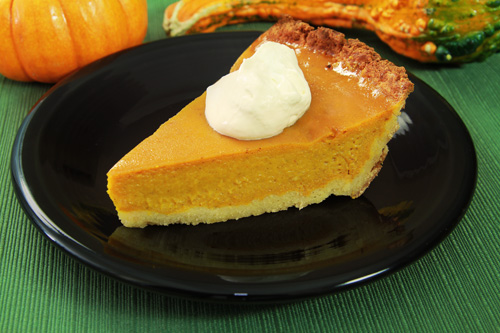 Gluten Free Coconut Flour Pie Crust
Prepared by Sarah Shilhavy, Photo by Jeremiah Shilhavy
In a medium sized bowl cut the butter and coconut oil into the coconut flour until mixture resembles irregular pea sized clumps. Add remaining ingredients except egg white. Mix together with your hands until a soft dough has formed. Pat dough into a 9 inch pie pan. When you are done forming the crust, take the egg white and beat it with a fork until frothy. With a pastry brush, brush the crust with the egg white just before filling.
Recipe by Sarah Shilhavy
Published on November 21, 2010