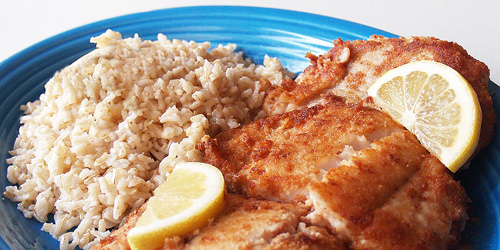 Gluten Free Coconut Fried Fish with Organic Brown Rice and Lemon Wedges
Prepared by Sarah Shilhavy
Photo by Jeremiah Shilhavy
Dredge fish fillets in coconut flour.
Heat oil (approximately 3 tablespoons per 4 fillets) in frying pan over medium heat. Fry fish until browned and flaky, turning over once or twice. Season with salt and pepper while frying.
Serve fish immediately and squeeze lemon juice over fillets. This is delicious! Enjoy!
Note: fish will absorb all the coconut oil.
Recipe submitted by Betsy, West Bend, WI
Published on September 27, 2009