If you love chocolate, then these cupcakes are for you. Even if you don't love chocolate, I'm sure you'll like these.
These dense, fudge-like cupcakes are topped with a fluffy, creamy, whipped cream-like frosting flavored with vanilla. The two are total opposites, but they get along nicely in this cupcake. And the best thing is neither the cupcakes nor the frosting has an overload of sugar. Who wants a mile of sugar fluff on their cupcakes anyway?
The cupcakes can be kept cold or on the counter at room temp, but I recommend storing them overnight in the refrigerator (if they even survive that long). Then, you can take them out to come to room temperature or eat them cold. I like them cold. Make them yourself, then tell me which way you like them.
Oh, and by the way, don't worry if the cakes fall and crack in the center during cooling. That's normal. It makes a great little bowl for the frosting.
The cool thing about these little guys is that they get better with age. I thought they tasted best 2 days after they were baked. But the best thing is: they're gluten free, and completely foolproof. No one will ever know…
What's your favorite cupcake flavor, and what kind of frosting do you like on them?
Until next time,
Sarah:)
Gluten Free Coconut Fudge Cupcakes
with Whipped Vanilla Cream Frosting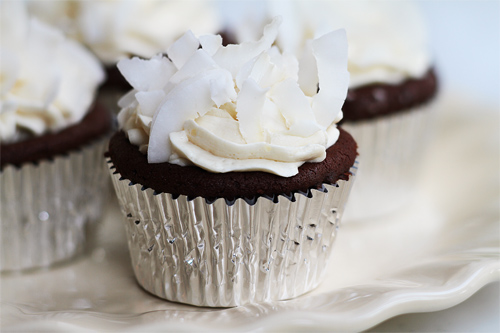 Gluten Free Coconut Fudge Cupcakes
Prepared by Sarah Shilhavy, Photo by Jeremiah Shilhavy
Preparation Time: 15 minutes
Servings: 18-20 cupcakes
Cupcakes:
Preheat oven to 300 degrees F. Line a muffin pan with cupcake papers.
Melt the butter and chocolate together over a double boiler or over very low heat. Set aside to cool.
Using an electric mixer fitted with a whisk attachment beat the eggs, water, sugar and vanilla on medium high speed for about 3 minutes. Mixture should be foamy, pale in color and doubled in volume.
With mixer on low, slowly add the chocolate mixture. Increase speed to medium high and beat until well blended, 30-40 seconds. Scrape the bowl down with a rubber spatula once or twice as needed. Add coconut flour and cocoa and beat again for another 30 seconds. Scrape down once, if needed.
Fill the cupcake papers with the batter and bake in the preheated oven for 10-20 minutes. Cupcakes are done when a toothpick inserted in the center comes out wet with gooey chocolate clumps.
Cool in pan for 5-10 minutes before removing and cooling completely on wire racks. Chill until cold in the refrigerator if desired and frost with Whipped Vanilla Cream Frosting and top with coconut flakes. Store overnight in the refrigerator.
Whipped Vanilla Cream Frosting:
Pour a little milk into the corn starch to make a slurry. Add remaining milk to a medium saucepan and heat over medium heat. When milk is hot, add slurry, whisking constantly. Heat until mixture thickens, but do not let it come to a rolling boil. Milk should become extremely thick and almost paste-like.
Pour thickened milk into a bowl and cool to room temperature.
Beat the butter and sugar with an electric mixer fitted with a whisk attachment until very light and fluffy, about 5 minutes. Scrape bowl down and add vanilla. Beat for another 1-2 minutes.
Add the milk paste to the butter a spoonful at a time, beating well after each addition. When the milk has been added beat on high speed until frosting is light and fluffy and resembles whipped cream. Thin out with a little heavy cream if needed.
Frost cupcakes and enjoy!
Sarah Shilhavy
Published on August 9, 2010