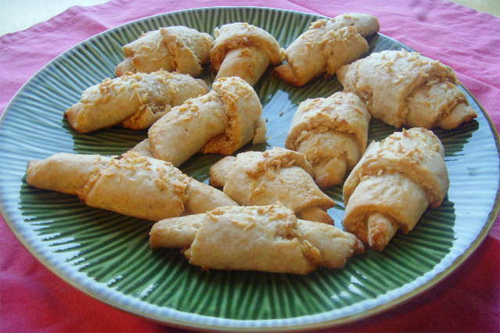 Gluten Free Coconut Mango Rugelach
photo by recipe author
Servings: 48
Preparation Time: 20 minutes
1. In food processor, mix coconut flour and salt. Slowly pulse in coconut oil, cream cheese, sour cream, and sugar. Pulse until crumbly.
2. Shape dough into four disks, wrap well in (or place in zip lock bags) and refrigerate 2 hours to two days.
3. When ready to bake, preheat oven to 350 degrees. On a lightly floured surface, roll with a rolling pin, or shape with hands, each disk into a 9-inch round. Spread each round with two tablespoons of preserves, and top with a light dusting of coconut flakes. With knife or pizza cutter, cut each disk into 12 wedges. Roll up each wedge, starting with wide edge. Place each cookie on a greased cookie sheet, and sprinkle with additional coconut flakes.
4. Bake 15-20 minutes until lightly golden. Remove from oven and place each cookie on a rack to cool. Cookies store well, in airtight containers up to a week.
Recipe submitted by Tammy, Union City, TN
Published on March 19, 2012