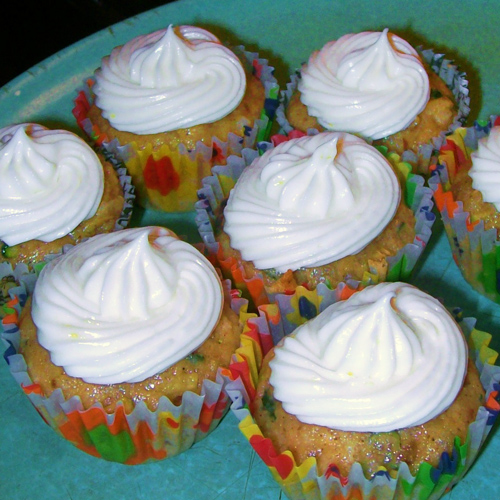 Gluten Free Coconut Zucchini Mini Muffins
with Lemon Cream Cheese Frosting Recipe
photo by recipe author
Servings: 6
Preparation Time: 30 minutes
Muffins:
Frosting:
8 oz cream cheese, softened
1 tablespoon lemon juice
2 teaspoon lemon zest
1 tablespoon raw honey
1/2 cup coconut oil, melted
3/4 cup powdered sugar
Muffins: Preheat oven to 350 degrees ºF.
Combine eggs, sugar, honey, vanilla, coconut oil and mix well. Fold in zucchini, walnuts and coconut.
In separate bowl, combine flours (can substitute with your favorite GF flour blend or regular flour), baking powder, ginger, cinnamon and baking soda and add to wet ingredients. Mix until just combined. Place into ungreased muffin trays (lined or unlined). Bake 18 – 20 minutes or until toothpick comes out clean. Cool completely, top with lemon cream cheese frosting (below) or your favorite frosting recipe.
Frosting: Combine everything except sugar and beat until smooth. Add powdered sugar until desired texture & sweetness (can reduce sugar or substitute more raw honey for part of the sugar. If you choose to add honey in place of sugar, you may need to reduce the amount of melted coconut oil). If too thick, add more melted coconut oil and continue to beat until fluffy.
Recipe submitted by Rebecca, Lyons, NY
Published on August 9, 2013