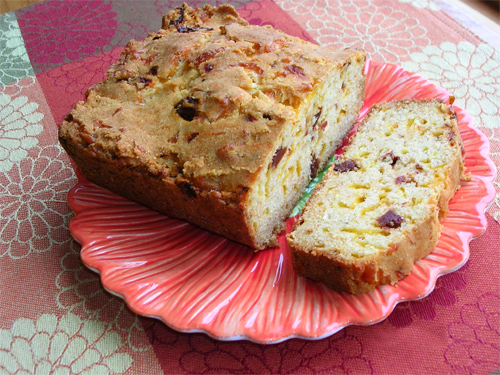 Gluten Free Cornbread With Sundried Tomatoes Recipe
photo by recipe author
Servings: (1) 2 lb. loaf or 12 muffins
Preparation Time: 20 minutes
Preheat oven to 350 degrees. Butter a 2 lb. loaf pan and line bottom with parchment paper.
Sift the dry ingredients into a large bowl. Stir with a wire whisk until well blended. Add the sundried tomatoes and the cheese. Mix well. Combine the milk, beaten eggs and melted butter in a small bowl. Make a well in the middle of the dry ingredients and add the milk mixture, a little at a time and mix until well blended. Batter will be stiff.
Spoon into the prepared pan and bake 50 minutes. For muffins, bake 25 minutes. Let the pan cool on a wire rack. Run a knife along the sides of the pan, turn the pan over and remove the bread. Discard the parchment paper.
Recipe submitted by Pat, Jackson WI
Published on May 7, 2012