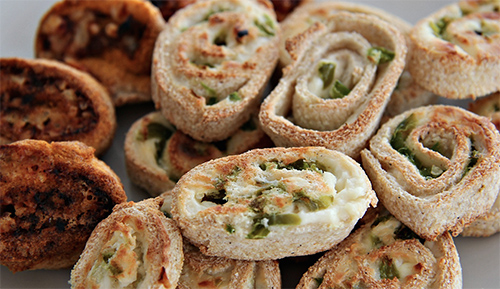 Gluten Free Cream Cheese and Jalapeno Pinwheels
photo by recipe author
Servings: 16 pinwheels
Preparation Time: 20 minutes
1/2 cup coconut flour
1/2 teaspoon baking powder
1/4 teaspoon salt
1 tablespoon psyllium husk powder
2 tablespoons butter, melted
1 egg
1 cup boiling water
2 ounces cream cheese, softened at room temperature
2 jalapeno peppers, finely chopped
Pre-heat oven to 400° F.
Mix dry ingredients in a bowl, combine well. Add the butter and eggs, mix thoroughly until mixture resembles breadcrumbs.
Boil the water and add to the mixture a bit at a time, stirring thoroughly until you have a dough. Cut the dough into four pieces. Roll each quarter into a ball then place each one on a strip of parchment paper. Place another strip of parchment paper over each dough ball and roll each one out into rectangles about 8 x 4 inches each.
Trim any edges and spread the cream cheese over the strip. Sprinkle the chopped jalapeno over the cream cheese. Using the parchment paper base, take one end and roll up the dough like a Swiss roll, keeping it fairly tight. Cut the dough into half, then half again. This will make your pinwheel shape.
Place the pinwheel face down on a parchment paper lined baking tray. Bake for 20 minutes, turning over after 10 minutes.
Angela from Barbados won $50 for this recipe and photo! Submit your coconut recipes and photos here!
Published on May 16, 2016