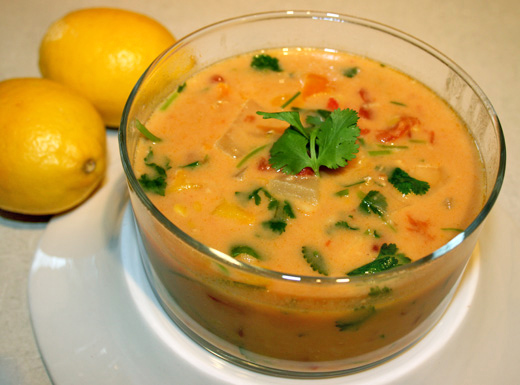 Gluten Free Creamy Coconut Lentil Soup
photo by recipe author
Servings: 4-6
Preparation Time: 15 minutes
1 1/2 cups lentils, soaked
1 quart chicken stock (homemade if possible)
14 oz coconut milk*
2 tablespoons coconut oil
1 large sweet onion, chopped
1 tablespoon garlic crushed
1-3 tablespoons fresh ginger, minced
1/2 teaspoon – 1 tablespoon crushed red chili flakes
1 teaspoon cumin
1 teaspoon coriander
1/4 teaspoon salt
1 organic yellow pepper, chopped
1 organic orange pepper, chopped
1 organic red pepper, chopped
4 cups diced tomatoes
1 cup tomato juice/sauce
1 lemon, juiced
1 bunch cilantro, chopped
First, soak your lentils in warm water with a couple tablespoons of apple cider vinegar for 6-8 hours. Once they have been soaked, pour off the water and rinse the lentils well.
In a large pot, add the lentils and cover with 3-4 inches of water. Bring to a boil and simmer for 30 minutes. Skim off any foam that rises to the top. Remove from heat, pour off the water and rinse well.
Place the lentils back in the soup pot. Add the chicken stock, coconut milk, coconut oil, onion, garlic, ginger and spices to the lentils and bring to a simmer. Reduce heat to low and simmer for 1 hour, stirring occasionally. Check for seasoning and add the peppers and tomatoes. Adjust the seasoning as needed. Check the lentils for tenderness. Cover and let the soup continue to cook over very low heat. Total cooking time will vary, depending on your altitude – between 2-4 hours is average. Once the lentils are tender, remove from heat and stir in 1/2 of the bunch of chopped cilantro and lemon juice. Save the rest of the cilantro for serving.
Another method to cook this soup is in the crock pot. Follow the step for cooking the lentils the initial 30 minutes, skimming off the foam, and rinsing again. Then, once that is done, place all of the ingredients in your crock pot and cook on low for 4-8 hours or until the lentils are tender. The amount of time will depend on your crock pot and altitude.
* For the freshest coconut milk make homemade coconut milk. (See video at this link.)
Recipe submitted by Jessica, Denver, CO
Published on November 4, 2011