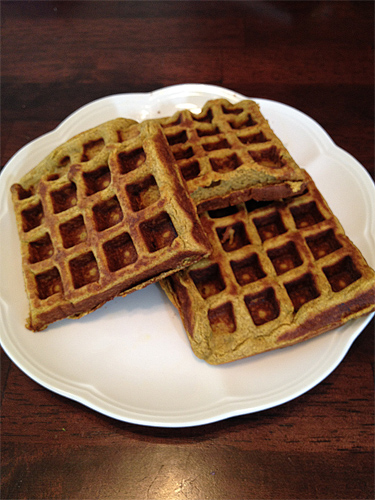 Dairy Free Pumpkin Pie Waffles Recipe
photo by recipe author
We occasionally serve with whipped cream for fun, but we find the waffles sweet and flavorful enough to be served "as is", without butter or syrup.
Servings: 10 4×4 waffles
Preparation Time: 5 minutes prep, 5 minutes cook
Combine all ingredients. I usually make the batter in my Vitamix because it is simple to blend it all together and then pour into the waffle iron. The batter does have a thick consistency, but the waffles themselves are far from dense.
Let sit for 5 minutes.
Cook in preheated waffle iron, approximately 5 minutes per batch, or to desired brownness
Makes 10 4×4 waffles.
Recipe submitted by Wendie, Burr Ridge, IL
Published on October 10, 2012