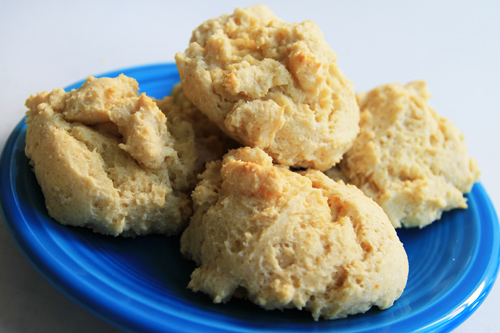 Gluten Free Drop Biscuits
Prepared by Sarah Shilhavy, Photo by Jeremiah Shilhavy
Preparation Time: 10 minutes
Servings: 1 dozen biscuits
Preheat over to 375 degrees F. Line a cookie sheet with parchment paper and set aside.
Blend all the dry ingredients together in a medium sized bowl until well mixed.
Make a well in the center of the flour mix and add remaining ingredients, mixing well. Add more milk if dough looks too dry. The dough should be wet and sticky.
Drop rounded spoonfuls of dough onto prepared cookie sheet (you should get 12 biscuits).
Bake in preheated oven for 12-15 minutes or until bottoms are golden brown.
Notes: Experiment with adding shredded cheese and other flavors like garlic powder, onion powder, Italian seasoning, oregano, etc. for a different flavor. A great combo is shredded cheddar cheese and garlic powder! Start out with about 1 cup of shredded cheese and 1/2 -1 teaspoon garlic powder. Enjoy!
Recipe courtesy Sarah Shilhavy
Published on June 4, 2010