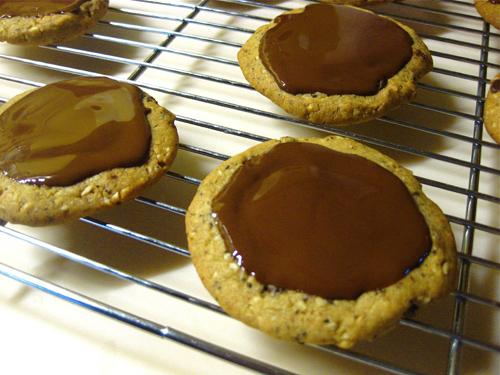 Gluten Free Espresso Almond Shortbread
photo by recipe author
Servings: Makes 24 cookies
Preparation Time: 1 hour
Gluten Free Espresso Almond Shortbread:
1 cup butter, softened
¾ cup packed brown sugar
4 teaspoons instant espresso or 1 tablespoon finely ground dark coffee
½ teaspoon salt
¼ teaspoon almond extract
1 cup finely chopped almonds
½ cup coconut flour
1 ½ cups Einkorn flour
Optional Chocolate Icing:
Gluten Free Espresso Almond Shortbread:
Cream the butter with the sugar in a mixer. Add the coffee, salt, and almond extract and mix to combine. Add the almonds and chocolate chips and combine, scraping down the sides of the bowl as necessary. Add the coconut flour and the Einkorn flour ½ cup at a time, mixing between additions. The dough will be very stiff.
Remove from bowl and roll the dough into a log shape. Wrap in parchment paper and place in freezer for 30 minutes before slicing into ¼ inch rounds. Place on papered or greased baking sheets and flatten cookies slightly with your hand. Bake at 350 ° F for 14 minutes. Remove to rack to cool.
Optional Chocolate Icing:
Melt chocolate chips and coconut oil in a double boiler. Dip cookies in the melted chocolate or drizzle chocolate over the tops.
Karen from Quincy, CA won $50 for this recipe and photo! Submit your coconut recipes and photos here!
Published on January 27, 2016