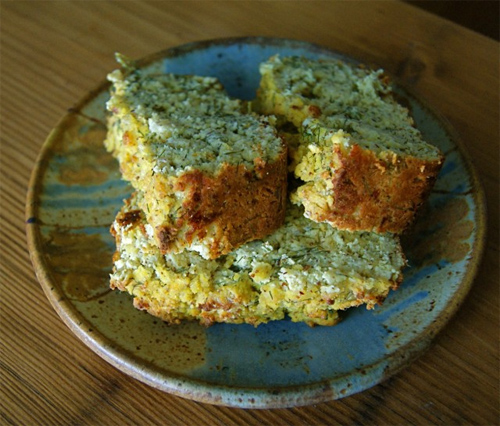 Gluten Free Fresh Dill Casserole Bread Recipe
photo by recipe author
Servings: 8
Preparation Time: 15 minutes
1 cup almond flour*
1/2 cup coconut flour, sifted
1/2 teaspoon salt
1 teaspoon baking powder
2 teaspoons active, dry yeast (or one individual package)
2 tablespoons minced, dehydrated onion
about a cup of finely chopped, fresh baby dill
1/2 cup water
1 teaspoon honey
1 cup cottage cheese (preferably full-fat and cultured)
2 tablespoons butter
3 eggs
Optional: extra butter to brush the top of the loaf, and coarse salt
In a medium mixing bowl, stir together the almond flour, coconut flour, salt, baking powder, yeast, and dried onion. Make sure there are no clumps of coconut flour. Stir in the chopped dill.
In a small saucepan, heat the water, honey, cottage cheese, and butter until it is warm and the butter has melted. Stir the warm mixture into the dry ingredients until just incorporated. Stir in the eggs. Oil a standard loaf pan and spread the dough evenly into the pan. Let the dough rise for 45 minutes. It will not double, but it will increase in height.
Preheat the oven to 350 degrees ºF. Bake the bread for 50-60 minutes, or until golden on the edges and top, and the center feels set (not squishy). Remove from the oven and, if desired, brush the top with some additional butter and sprinkle with coarse salt. Let the bread cool for ten minutes before slicing.
*You can grind your own almond flour by placing whole almonds in a blender/food processor and blending until you get a fine meal.
Recipe submitted by Angela, Longmont, CO
Published on January 27, 2014