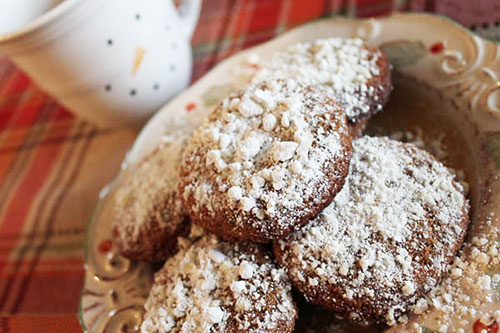 Gluten Free German Spice Cookies
photo by recipe author
Servings: 12
Preparation Time: 15 minutes
1/2 cup almond flour
1/4 cup coconut flour
1/4 cup arrowroot starch
1 tablespoon psyllium husk powder*
1/3 cup raw honey
1/2 teaspoon baking soda
1/2 teaspoon ground cinnamon
1/4 teaspoon ground cloves
1/4 teaspoon ground allspice
1/4 teaspoon ground nutmeg
1/4 cup palm shortening, or grass-fed butter
1/2 teaspoon lemon peel, grated
1/4 teaspoon anise extract
*If you do not have psyllium husk powder, replace with 1 egg.
*You can grind your own almond flour by placing whole almonds in a blender/food processor and blending until you get a fine meal.
Preheat oven to 350° F.
In a mixing bowl, combine all ingredients. Mix on low speed until combined and dough comes together.
Gently roll dough into 1″ balls. Place on a baking sheet lined with parchment paper. Bake for about 10 minutes. Remove from oven and sprinkle with powdered sugar if desired.
Let cool completely. Store in a sealed container.
Courtney from Weir, KS won $50 for this recipe and photo! Submit your recipes here!
Published on November 30, 2016