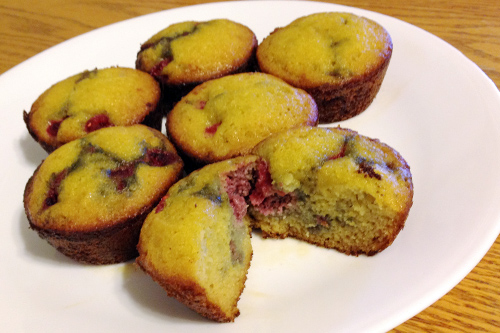 Gluten Free Grain Free Vanilla Raspberry Muffins
photo by recipe author
Servings: 24 muffins
Preparation Time: 10 prep, 16 bake
Preheat oven to 325 degrees F.
In a large bowl, beat together eggs, butter/ghee/coconut oil, honey, salt, vanilla, and almond extract.
Sift in coconut flour (this helps reduce clumps!). Blend in coconut flour and baking soda, if using. Allow batter to sit for a few minutes to allow coconut flour to absorb the moisture.
Grease muffin tins. Pour batter into tins. In each muffin cup, stir in 3-4 raspberries. (NOTE: If frozen, raspberries do not need to be thawed).
Bake 325 degrees F for 16-18 minutes. Remove from tins and cool. NOTE: Because honey is used as a sweetener, these muffins may brown quickly. The browning does not impact taste.
NOTE: Using raspberries, vanilla extract, and almond extract, you'll have a hard time convincing your kids that these nutritious coconut-flour muffins aren't cupcakes! These muffins freeze well.
Recipe submitted by Bethany, Dayton, OH
Published on November 7, 2011