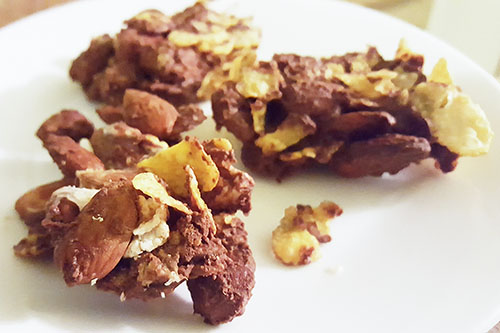 Gluten Free Indoor S'mores
photo by recipe author
Servings: 4
Preparation Time: 5 minutes
1/2 cup organic corn flake cereal
1/2 cup toasted almonds
1/2 cup home made marshmallows, divided*
1/4 cup chocolate chips
1 1/2 teaspoons coconut oil, plus more for greasing dish
*Search online for healthy recipes to make your own marshmallows.
Stir and barely melt the chocolate chips, coconut oil, and 1/4 cup marshmallows together over a double boiler. Remove from heat.
Coat a small dish (about 5×5) with coconut oil. Add remaining marshmallows and corn cereal to dish.
Pour melted sauce over marshmallows and cereal. Allow to set in refrigerator for at least 30 minutes.
Kelly from Monterey, CA won $50 for this recipe and photo! Submit your recipes and photos here!
Published on March 8, 2017