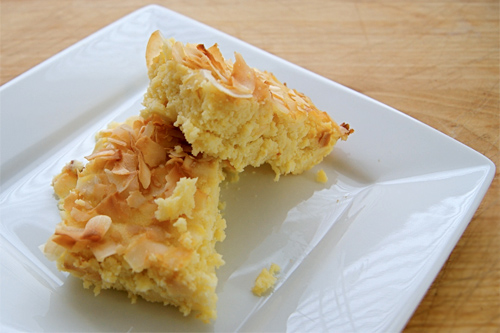 Gluten Free Lemon-Coconut Blondies Recipe
photo by recipe author
Servings: 12-16
Preparation Time: 10 minutes
Preheat the oven to 350 degrees. Over very low heat, heat honey and coconut oil just until oil is melted. Stir in the lemon juice and vanilla, and then whisk in the eggs and lemon zest.
In a small bowl, stir together the coconut flour, sea salt, stevia, and baking powder until well combined. Stir this into the coconut oil mixture. After a couple of minutes this is going to get very thick, as the coconut flour absorbs the moisture. At this point, stir in enough of the coconut milk to have the consistency of thick pancake batter (start with a 1/4 cup and see if you need to add more).
Grease an 8 by 8 inch baking pan, and spoon in the batter. Top with the toasted coconut, and bake for 35-45 minutes, or until the center feels "set" when you lightly press down with your finger. Remove and cool completely before cutting (if they are still warm, they will fall apart).
Note: I made these in a 6 by 10 inch pan, as well an 8 by 8–since the latter is more common, that is the size I called for, but the other pan worked well.
* For the freshest coconut milk make homemade coconut milk. (See video at this link.)
Recipe submitted by Angela, Longmont, CO
Published on October 17, 2012