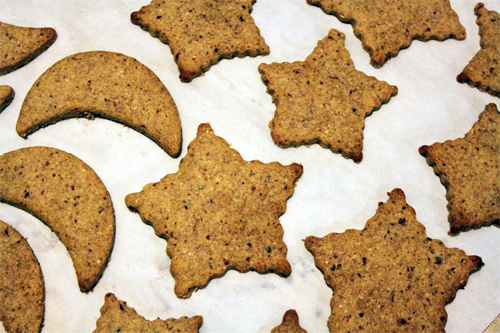 Gluten-Free Lemon Coconut Cut Out Cookies
photo by recipe author
Servings: 20-40 cookies, depending on size
Preparation Time: 3 hours
1 cup cashews
15 medjool dates, pitted
1/2 cup melted coconut oil
2 tablespoons honey
2 teaspoon ground ginger
1 teaspoon fresh ginger, peeled and finely grated (I used a microplane to grate it)
zest from 1 lemon (I used a microplane to zest it)
juice of 1/2 lemon
pinch of salt
1/2 cup arrowroot starch/flour
1 cup amaranth flour or quinoa flour
1/2 teaspoon baking soda
1/2 teaspoon xanthan gum or guar gum
1 cup finely shredded coconut
Grind the cashews into a flour in a blender or a food processor. Add dates, oil, honey, both gingers, lemon zest, lemon juice, and salt, and pulse until everything is mixed into a sticky dough.
Sift/stir together flours, starch, baking soda, gum, and coconut. Start adding the flour to the food processor, pulsing to combine. When it is done, the dough will be quite thick and moist, but not super sticky. You may notice it seems really oily; that's okay. Put it in the fridge over the night or at least for three hours.
When ready to bake, remove dough from fridge and let cool 30 minutes. Set the oven to 350º F. Line a baking pan with parchment paper. Roll out the dough roughly 1/8-inch thick on a pastry mat. Cut it with cookie cutters and transfer it to the parchment paper.
Bake for 7-10 minutes, depending on the size and thickness of the cookies, rotating pans half way through the baking time if baking more than one pan at time. Keep an eye on the oven and make sure not to over bake them, I baked until the edges just started to turn golden brown (9 minutes). Since they contain cashews and coconut, they will burn easily.
Recipe submitted by Kim, Minneapolis, MN
Published on March 18, 2011