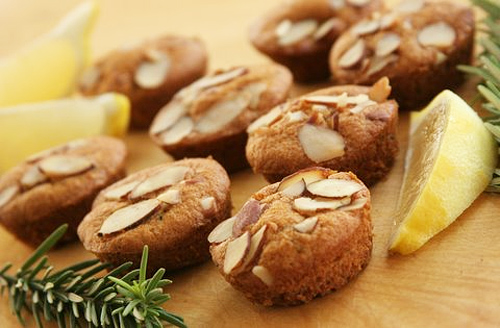 Gluten Free Lemon-Rosemary Teacakes
photo by recipe author
Makes 18 teacakes
Preparation Time: 30 minutes
2 large eggs, separated
1/4 cup honey
1/4 cup coconut oil, plus extra for greasing the pan
1 tablespoon fresh lemon zest
1 tablespoon finely chopped rosemary
1 cup blanched almond flour
1/4 cup arrowroot starch
1/2 teaspoon baking soda
1/4 teaspoon sea salt
sliced almonds, for sprinkling
Preheat oven to 350 degrees F. Lightly grease 18 cups of a mini muffin tin with coconut oil.
Using the whisk attachment of an electric mixer beat egg whites to soft peaks. Set aside.
In a small saucepan, melt honey and oil together until just melted. Transfer to a small bowl and whisk in lemon zest, rosemary, and egg yolks.
In a medium bowl, whisk together almond flour, arrowroot, baking soda, and sea salt. Stir in the oil and honey mixture to form a thick batter.
Fold the egg whites into the batter, taking care to deflate them as little as possible. Fold in until thoroughly incorporated and batter is a pale golden color.
Spoon batter evenly among the greased muffin cups. Sprinkle tops with almonds.
Bake for 10-12 minutes until teacakes are golden brown and a toothpick inserted comes out clean.
Cool completely before removing from pan and serving.
Recipe submitted by Hallie, Middleton, WI
Published on March 2, 2011