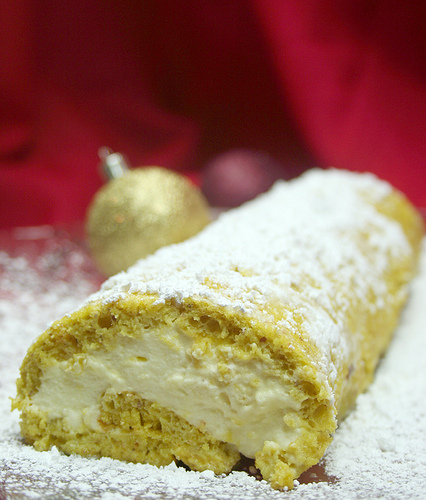 Gluten Free Lemon Roulade made with coconut flour
Photo by recipe author
This recipe is done in 3 parts. Making the Lemon Curd can be done up to a week in advance.
Servings: 8
Preparation Time: 45 minutes
Lemon Curd:
grated zest and juice of 3 lemons
1/4 cup raw honey
1 tablespoon arrowroot powder (or other starch)
1 tablespoon water
2 egg yolks
4 tablespoons butter
Lemon Roulade Sponge Cake:
Lemon Cream Filling:
1 cup heavy cream
4 tablespoons lemon curd
Part 1: Making the Lemon Curd
Put the grated zest and juice into a pan honey. Bring to a boil, stirring until the honey has mixed in with the lemon juice.
Mix the arrowroot and water to a paste and add to the lemon/honey mixture. Remove pan from heat and beat in egg yolks.
Return to low heat and mix for about 2 minutes and then remove from the heat again. Gradually beat in butter. Pour into a mason jar, or other sterilized jar, cover and seal. Let the curd cool, then chill.
Part 2 – Making the Lemon Roulade Cake
Preheat the oven to 375F. Grease a 13 x 9-inch jelly roll pan and line with parchment paper.
In a large bowl, beat the egg yolks with 1 oz (1/8 cup) raw honey until light and foamy. Beat in the lemon zest and vanilla extract, then lightly fold in the ground almonds and coconut flour using a rubber spatula or large metal spoon.
Beat the egg whites in a clean bowl until they form stiff, glossy peaks. Gradually beat in the remaining 1oz (1/8 cup) of raw honey to form a stiff meringue. Fold in 1/3 of the meringue at a time into the egg yolk mixture. Do not over-fold, just enough to incorporate.
Pour into the prepared pan, level the surface, and bake for 10 minutes, or until risen and spongy to the touch. Cover loosely with parchment paper and a damp dish towel. Let the cake cool in the pan.
Part 3 – Making the Lemon Cream Filling
Whip the cream in a stand mixer just until medium peaks form. Lightly fold in 4 tablespoons of the lemon curd.
Assembly:
Sift the confectioners sugar onto a piece of parchment paper and turn the sponge onto it. Peel off the lining paper and spread the lemon curd cream over the surface of the sponge, leaving a border around the edge. Using the paper underneath as a guide, roll up the sponge from one of the long sides.
Place on a serving platter with the seam underneath and serve.
Recipe submitted by Diana, Des Moines, IA
Published on December 23, 2009