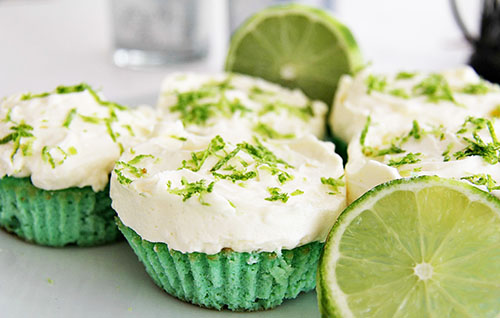 Gluten Free Lime Cupcakes with Cheesecake Topping
photo by recipe author
Preparation Time: 10 minutes
Servings: 6
Cupcakes:
Topping:
3 ounces cream cheese

1/4 cup whipping/heavy cream

1/4 cup whole sugar
Cupcakes:
Pre-heat the oven to 400° F.
Mix the coconut flour, baking powder, salt and whole sugar in a bowl. Add the coconut milk, coconut oil, lime juice, rind and eggs together until you have a smooth batter. Add the chlorophyll, adjust if you want it brighter green.
Pour into cupcake cases and bake for 20 minutes. Remove from the oven and allow to cool.
Topping:
Blend the topping ingredients together until smooth. Slather or pipe over the cupcakes. Optional decoration is extra rind from a lime.
Angela from St. George, won $50 for this recipe and photo! Submit your recipes here!
Published on June 20, 2016