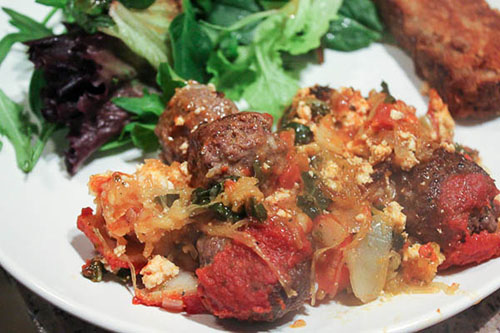 Gluten-Free Meatball Casserole
photo by recipe author
Servings: 4
Preparation Time: 40 minutes
1 pound ground beef, bison or turkey
1/2 teaspoon fennel seeds
1/4 teaspoon ground coriander
1/4 teaspoon basil
1/4 teaspoon oregano
1 tablespoon coconut oil
1 spaghetti squash, cooked and strands removed
2 cups collard greens
1 cup spinach
8 ounces ricotta cheese
1 onion, sliced
1 garlic clove, minced
2 roma tomatoes, thinly sliced
1 cup shredded cheese (or dairy-free), optional
1 cup pasta sauce
In a large bowl, combine ground beef, fennel, coriander, basil and oregano. Mix and form into 1-2″ meat balls. Place meatballs in a large skillet with about 1 tablespoon coconut oil. Cook on each side for about 8-10 minutes or until cooked through.
Place spaghetti squash strands in a greased 9×9 baking dish. Mix in collard greens, spinach, ricotta cheese, onions and garlic. Top mixture with meatballs. Top meatballs with tomato slices and shredded cheese. Pour over pasta sauce.
Bake at 350° F for about 30 minutes.
Courtney from Weir, KS won $50 for this recipe and photo! Submit your recipes and photos here!
Published on September 16, 2016