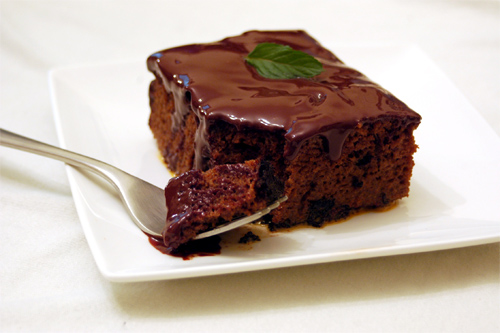 Gluten Free Mexican Chocolate Coconut Tres Leches Cake
photo by recipe author
Servings: 12
Preparation Time: about 1 hour
Chocolate Coconut Cake:
Tres Leches Sauce:
8 oz sweetened condensed milk*
1 14 oz coconut milk** or evaporated milk
1 cup whole milk or cream
Mexican Chocolate Sauce/Frosting:
Chocolate Coconut Cake:
Set oven at 325 F. Grease a 9×13 pan and dust with coconut flour.
In a small bowl combine the flour, cocoa, sea salt and baking soda. In a large bowl blend together the egg yolks, oil, honey, vanilla and cinnamon. Add dry ingredients into the large bowl and blend together till smooth (very well combined).
Put egg whites in a clean glass bowl, sprinkle some lemon juice and beat till stiff peaks form.
Fold egg whites into the batter and be careful not to over mix!
Pour mixture into 9×13 pan and bake for 35-40 minutes. Before taking it out, test it with a knife and if it comes out clean… it is done.
Remove cake from the oven and allow it to cool completely. If desired, turn the cake unto a large plate or keep it in the pan.
Tres Leches Sauce:
Pour milks into a large jar and mix very well. Pour over the cake slowly in sections. Do not pour it all at once!
Note: if the coconut milk is very thick, you will need to water it down till it is the same consistency as regular evaporated milk.
Mexican Chocolate Sauce/Frosting:
In a small saucepan over low heat, melt chocolate and coconut oil or butter. Stir in honey, cinnamon, vanilla, salt and optional chile. Let it cool. Heavily drizzle it over the cake (if desired) and serve!
If you want it more frosting-like… place the sauce in the freezer for about 15 minutes. Remove from the freezer and whip the frosting with a hand blender until fluffy and thick. Carefully frost the cake and serve!
* You can make your own sweetened condensed milk with our recipe here.
** For the freshest coconut milk make homemade coconut milk. (See video at this link.)
Recipe submitted by Marillyn, Britt, IA
Published on December 30, 2011