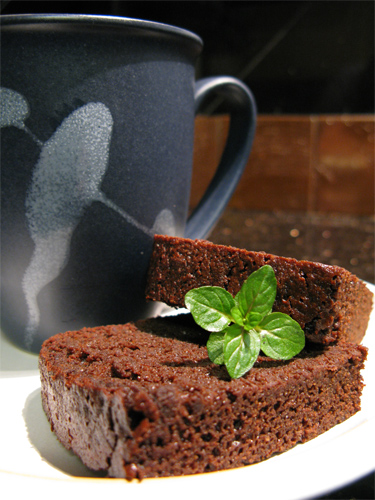 Gluten Free Mexican Chocolate Coffee Cake
photo by recipe author
Servings: 20
Preparation Time: 70 minutes total
1. Preheat oven to 325F. Line 5×9 inch loaf pan with wax paper. Grease wax paper with coconut oil.
2. Sift cocoa, coconut flour, cinnamon, cayenne, salt and baking soda into a small bowl.
3. In a food processor or blender, combine eggs, honey, and vanilla. Pulse a few times to beat together. Add melted coconut oil and chocolate. Process/blend for 1 minute.
4. Add dry ingredients to food processor, and pulse to combine.
5. Pour batter into prepared loaf pan and bake for 1 hour (not a very forgiving cake if you burn it, so you might want to test for doneness with a toothpick at the 55 minute mark).
6. Let cool completely in the pan. Remove from pan and carefully remove wax paper. Enjoy!
Recipe submitted by Sarah, Marietta
Published on December 12, 2011