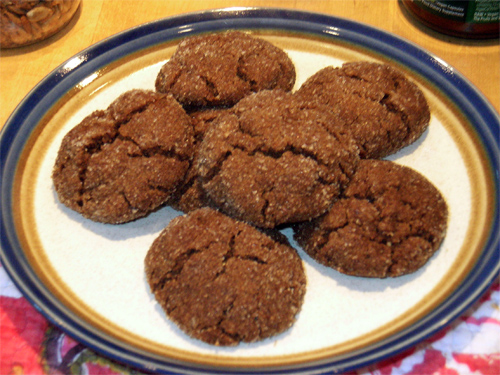 Gluten Free Molasses Cookies
Photo by recipe author
Servings: 25-30 cookies
Preparation Time: 15 minutes
Mix coconut oil, molasses, sugar and egg together with a fork.
Mix almond meal, coconut flour, baking soda, salt, cloves, ginger and cinnamon in a separate bowl and mix well.
Combine the 2 mixtures and mix with a spoon to form a dough. Chill dough in the refrigerator for 30-60 minutes.
Preheat oven to 350 degrees F.
Roll into 1-inch balls and dip in sugar (optional). Place on a cookie sheet lined with parchment. Bake for about 8 minutes in preheated oven.
* You can make your own almond meal by grinding almonds in a blender until it forms a meal. Be careful not to over process the mixture or else you will get almond butter!
Recipe submitted by Carol, Libertyville, IL
Published on November 29, 2010