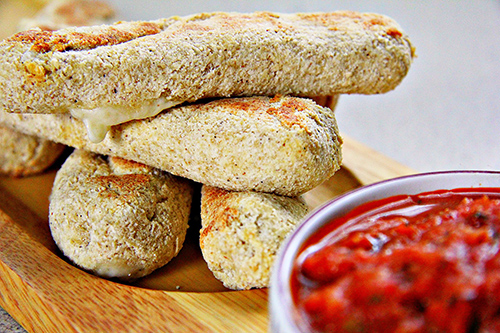 Gluten Free Mozzarella Stuffed Breadsticks
photo by recipe author
Servings: 8
Preparation Time: 10 minutes
1/2 cup coconut flour
1/2 teaspoon baking powder
1/4 teaspoon salt
1/4 teaspoon black pepper
1/2 teaspoon onion powder
1/2 teaspoon garlic powder
1 tablespoon psyllium husk powder
2 tablespoons butter, melted
1 egg
1 cup boiling water

8  6″ long strips mozzarella cheese
Pre-heat oven to 400° F.
Mix the dry ingredients in a bowl, combine well. Add butter and eggs, mix thoroughly until the mixture looks like breadcrumbs.
Boil water and add to the mixture a bit at a time, stirring thoroughly until you have a dough.
Cut the dough into eight pieces. Take each piece and roll into a ball. Place this on a strip of parchment paper. Place another strip of parchment paper over the dough ball and roll out each one into a rectangle about 8 x 4 inches. Place a mozzarella cheese strip in the center of the rolled dough and cover it with the dough like a parcel wrapping. Make sure all the edges are sealed.
Place the breadsticks on a parchment paper lined baking tray. Bake for 20 minutes, turning over after 10 minutes.
Angela from St. George, Barbados won $50 for this recipe and photo! Submit your coconut recipes and photos here!
Published on April 16, 2016