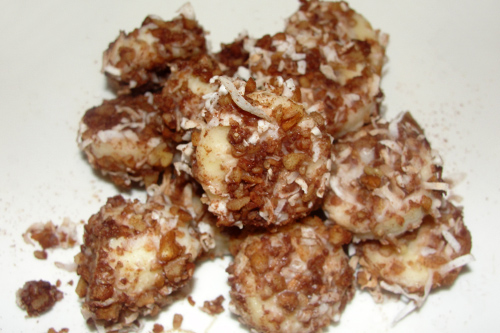 Gluten-Free No-Bake Coconut Pecan Banana Bites
photo by recipe author
Servings: 4
Preparation Time: 1 hour start to finish
Slice banana about 1/2 inch thick and place in the freezer for about 15 minutes. They don't need to be frozen through, just cold to the touch.
Melt the coconut concentrate gently and place in a small bowl.
Combine chopped pecans, shredded coconut and cinnamon in a shallow dish. Once bananas are out of the freezer, dip each slice into the coconut concentrate and directly into the coconut pecan mixture. (Do this step fast, as the coconut cream concentrate will harden quickly)
Turn bananas over to coat and place back onto the dish to return to the freezer. Once all are coated, return to the freezer to allow them to set up.
Enjoy!
Recipe submitted by Esther, Bremerton, WA
Published on November 2, 2011