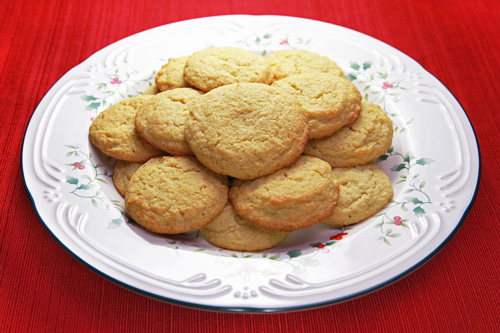 Gluten Free No-Roll Sugar Cookies
Prepared by Sarah Shilhavy, Photo by Jeremiah Shilhavy
These gluten free cookies bake up soft and chewy with a slightly crisp outside. This is a drop cookie recipe, so there is no need to roll the dough out. Once the cookies have fully cooled you can decorate with frosting and toppings or simply eat plain! For a coconut sugar cookie variation stir in some dried flaked coconut into the dough before baking.
Servings: 20 cookies
Preparation Time: 15 minutes
4 oz (approx. 1/2 cup) butter, at room temperature
1/4 cup cream cheese, softened
3/4 cup granulated sugar
1 egg
1 1/2 teaspoons vanilla extract
1 1/3 cups gluten free flour mix*
1/2 teaspoon baking soda
1/2 teaspoon baking powder
1/2 teaspoon xanthan gum
Preheat oven to 375 degrees F.
Cream butter, cream cheese and sugar together in the bowl of an electric mixer fitted with the paddle attachment. Beat until mixture is light and fluffy, about 3 minutes. Scrape bowl down with a rubber spatula once or twice, as needed. Add egg and vanilla extract, beat until well combined and scrape bowl down as needed.
In a separate bowl mix flour mix, baking soda, baking powder and xanthan gum together. Add to the butter and sugar mixture and stir until well combined and a sticky dough forms.
Using a cookie scoop, drop heaping tablespoon sized balls unto parchment paper lined cookie sheets. Place about 2 inches apart.
Bake cookies for 9-12 minutes, or until the edges and tops begin to turn golden brown.
Remove cookies from the oven and allow to cool on the sheet for 1-3 minutes. Slide parchment paper off cookie sheet and allow cookies to cool completely on a wire rack or counter top (still on the parchment).
*Gluten Free Flour Mix:
Makes 3 cups
Mix all ingredients together and use as directed.
Recipe courtesy Sarah Shilhavy
Published on December 15, 2009