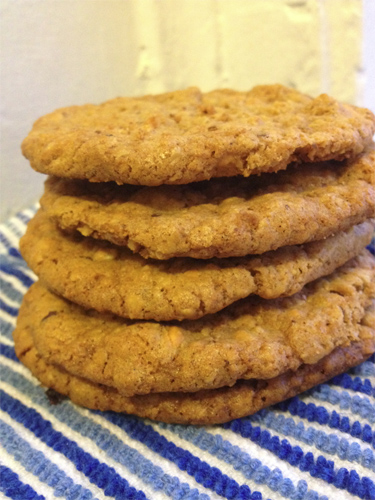 Gluten Free Oatmeal Scotchies Recipe
photo by recipe author
Servings: 2 dozen
Preparation Time: 20 minutes
2 teaspoons cinnamon
1 teaspoon baking soda
1/2 teaspoon sea salt
1/2 cup almond meal*
1/3 cup rice flour
1 1/4 tablespoons tapioca starch
2 tablespoons potato starch flour
1 1/2 cups gluten free oats
3/4 cup butterscotch chips
1 cup organic whole sugar
1/4 cup butter, softened
1/4 cup coconut oil
1 egg
1 1/2 teaspoons vanilla extract
2 teaspoons water
1. Preheat the oven to 350 degrees ºF. Line 2 baking sheets with parchment paper.
2. In a medium bowl, combine all the dry ingredients except the oats, butterscotch chips and sugar.
3. Using a mixer, cream together the sugar, butter, and coconut oil. Add the egg, vanilla, and water and blend until smooth. Add the dry ingredients and blend until combine.
4. Stir in the oats and butterscotch chips. Scoop rounded balls of dough onto the cookie sheet about 3 inches apart. Flatten slightly. Bake for 9-11 minutes, until lightly golden.
Cool slightly – and enjoy!
*You can grind your own almond flour by placing whole almonds in a blender/food processor and blending until you get a fine meal.
Recipe submitted by Emily, Charlotte, NC
Published on October 28, 2013