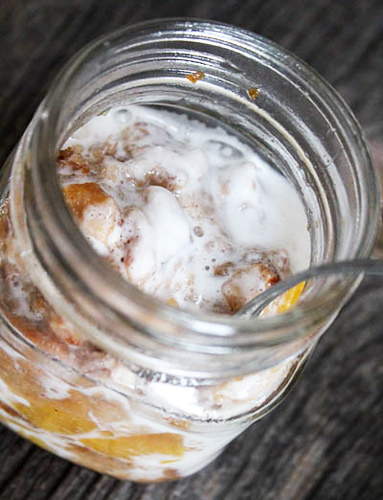 Gluten Free Peach Cobbler
photo by recipe author
Servings: 8-10
Preparation Time: 60 minutes
2/3 cup almond flour*
4 teaspoons coconut flour
1/4 cup + 1 tablespoon arrowroot starch
2 teaspoons baking powder
1 teaspoon cream of tartar
1/2 teaspoon sea salt
1/2 cup whole sugar
1 teaspoon cinnamon
2/3 cup coconut milk**
1 teaspoon vanilla
3 cups peaches, peeled and thinly sliced
1 cup water
1/2 cup honey
1/4 teaspoon nutmeg
1 tablespoon coconut oil
Preheat oven to 400° F.
Grease a 9×9 baking dish with coconut oil.
In a mixing bowl, combine coconut flour, almond flour, 1/4 cup arrowroot starch, baking powder, cream of tartar, salt, sugar and cinnamon. Then add milk, vanilla and mix until just combined.
Toss peaches in 1 tablespoon arrowroot starch, fold into cake mixture. Pour combined mixture into prepared baking dish.
Meanwhile, heat water, honey, nutmeg and coconut oil until boiling, stir well. Pour honey mixture over peaches in pan.
Bake for about 50-60 minutes, or until browned and center has set and toothpick comes out clean. Remove from oven and let rest for about 15 minutes.
Serve in cups, top with whipped cream. Enjoy.
*You can grind your own almond flour by placing whole almonds in a blender/food processor and blending until you get a fine meal.
*For the freshest coconut milk make homemade coconut milk. (See video at this link.)
Courtney from Columbus, KS won $50 for this recipe and photo! Submit your coconut recipes and photos here!
Published on October 7, 2015