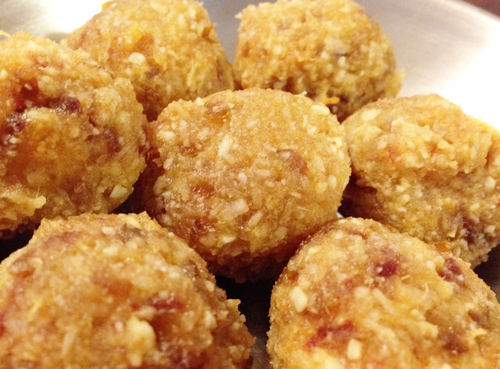 Gluten Free Pineapple Coconut Bites
photo by recipe author
Servings: 10 snack balls
Preparation Time: 10 minutes
3 pieces of pineapple (square chunks, not the rings)
3 medjool dates
3 tablespoons shredded coconut
1 tablespoon honey
3 tablespoons almond flour*
Preheat oven to 300 °F
Place all ingredients in the food processor, mix until well blended. Roll the mixture into 10 small snack balls. Bake for 20 minutes on chlorine-free parchment paper on a baking sheet. Cool before serving.
*You can grind your own almond flour by placing whole almonds in a blender/food processor and blending until you get a fine meal.
Keri from Horicon, WI won $50 for this recipe and photo! Submit yours here!
Published on May 6, 2015