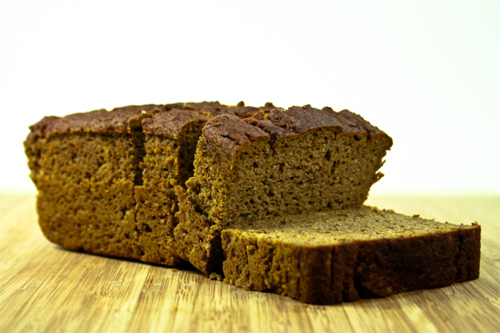 Gluten Free Pumpkin Bread
photo by recipe author
Servings: 6-8
Preparation Time: 10 minutes
1 cup almond flour*
1/4 cup coconut flour
1/2 teaspoon baking powder
1/2 teaspoon salt
3 tablespoons pumpkin pie spice
1/2 teaspoon high-quality cinnamon
4 large pastured eggs
1/2 cup coconut oil, melted
1/2 cup pumpkin puree
2 tablespoons maple syrup or honey
10-15 drops vanilla stevia
1/8 cup pumpkin seeds
Preheat oven to 350 F.
1. In a medium bowl, mix the almond and coconut flours together, along with the baking powder, salt, pumpkin pie spice, and cinnamon. Set the dry mixture aside.
2. In a mixer bowl, cream the eggs and the coconut oil together until smooth, then add the pumpkin, maple syrup, and stevia. Mix the wet ingredients until thoroughly combined.
3. Slowly add the dry ingredients. Mix until combined.
4. Oil a small loaf pan with coconut oil and then our batter into pan.
5. Sprinkle the pumpkin seeds on top.
6. Bake at 350 for 35-50 minutes. Check the loaf with a toothpick at 30 minutes. If it doesn't come out clean, continue baking.
7. Remove from oven and let cool for about an hour before removing from the pan.
8. Let the loaf cool completely before cutting. Use a lightly serrated knife to cut. Serve with lots of real butter!
*You can grind your own almond flour by placing whole almonds in a blender/food processor and blending until a meal consistency is reached.
Recipe submitted by Jessica, Denver, CO
Published on November 11, 2011