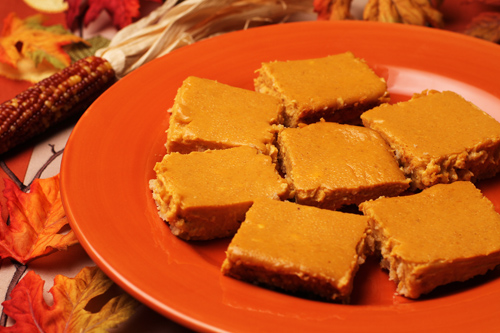 Gluten Free Pumpkin Cheesecake Bars
Prepared by Sarah Shilhavy, Photo by Jeremiah Shilhavy
Servings: 20
Preparation Time: 20 minutes
Preheat oven to 350 degrees. Grease a 9×13 inch pan with coconut oil.
Press shortbread dough into prepared pan with corn starch dusted fingers (double recipe if you want a thicker crust). If needed, refrigerate for a few minutes until firm.
In the bowl of an electric mixer, beat cream cheese, cinnamon, ginger and nutmeg just until creamy. Gradually add sweetened condensed milk. Beat in eggs one at a time. Add pumpkin and salt and beat until just blended.
Pour over crust and top with coconut flakes if using. Bake in preheated oven for 30-35 minutes. Filling should be set but still jiggle slightly if you shake the pan. Cool then refrigerate until cold before enjoying.
Gluten Free Shortbread Crust:
Beat butter and sugar until fluffy; add vanilla. Beat in remaining ingredients until a dough forms. Use as directed.
* You can make your own sweetened condensed milk
with our recipe here.
Recipe courtesy Sarah Shilhavy
Published on October 25, 2010