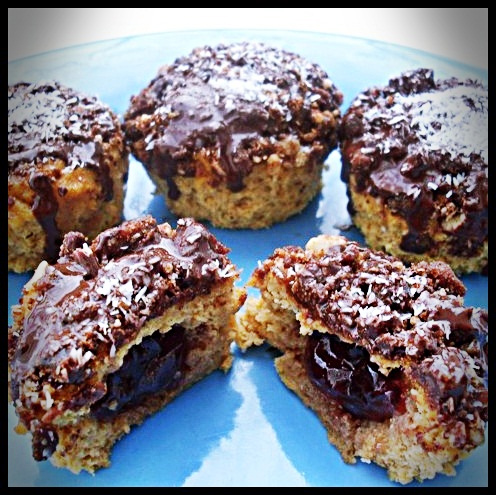 Gluten Free Pumpkin Delight Muffins
photo by recipe author
Servings: 18
Preparation Time: 15 minutes
Beat your eggs, Then whip in remaining wet ingredients. Set aside.
In another bowl mix the coconut flour, baking powder, cinnamon and salt. Then add the dry to the wet and mix really well.
Now in your food processor add remaining ingredients. Process until it looks like a crumb mixture, don't go too long or you'll end up with a nut butter!
Now, on a table you should have your batter, your toppings, and some pure fruit blackberry jam. You will also need muffin pans and liners.
Preheat your oven to 350 degrees.
Now, in each liner (which you can grease if you want, the batter is sticky) put one tablespoon of batter. Then in the middle put a teaspoon of blackberries, then another tablespoon of batter on top, and finally sprinkle the nut topping on.
Bake for 25 minutes and then let them cool.
While they are cooling melt some dairy-free dark chocolate and then drizzle over your muffins with a spoon.
And then sprinkle on some unsweetened coconut flakes!
And then….ENJOY!!!
Recipe submitted by Junior Chefs, Deer River, MN
* For the freshest coconut milk make homemade coconut milk. (See video at this link.)
Published on January 28, 2011