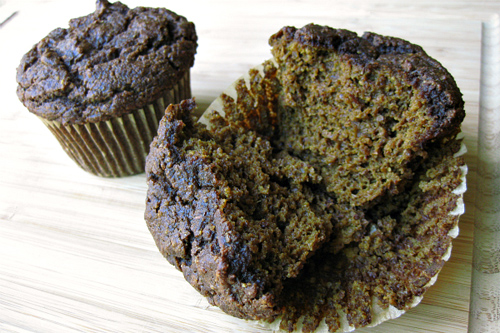 Gluten Free Pumpkin Muffins II Recipe
photo by recipe author
Servings: 10 muffins
Preparation Time: 45 minutes total
Preheat oven to 350 degrees F.
Using an electric mixer, blend together pumpkin, banana, maple syrup, eggs, and vanilla.
In a separate mixing bowl, stir together dry ingredients: almond meal, coconut flour, baking soda, baking powder, salt, and spices. Add to wet ingredients until blended. Mixture should hold together well and not be runny.
Pour batter 3/4 full into lined muffin tins.
Bake at 350 degrees for 25-30 minutes.
Tops will get perfectly hard and yummy, and the inside will be very, very moist!
*You can grind your own almond flour by placing whole almonds in a blender/food processor and blending until you get a fine meal.
Recipe submitted by Ashley, Rocklin, CA
Published on October 19, 2012