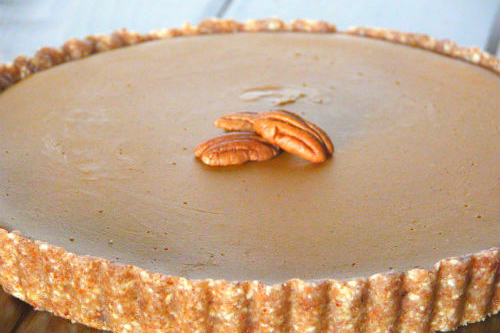 Gluten Free Pumpkin Tart Recipe
photo by recipe author
Servings: 8
Preparation Time: 20 minutes
Crust:
Filling:
Crust:
Add the nuts and dates to a food processor and combine until the mixture looks like rough sand.
Add in the syrup and oil and pulse until dough forms.
Press dough evenly into 9 inch tart pan covering the bottom and sides. Place in the freezer while you make the filling so it can set.
Filling:
In a saucepan, combine the coconut milk, oil, butter and sugar and bring to a boil. Once it reaches a boil, reduce heat to low and add the pumpkin, syrup and seasonings, stir well
Add the mixture to a food processor or blender and pulse until smooth.
Poor filling into the crust and place the tart into the freezer to set-up, about 30 minutes
Remove from freezer and place in the refrigerator, store there until right before you are ready to serve it.
Quick notes
**I used Deglet dates which are smaller than Medjools, so you may only need 2 Medjools.
I prefer expeller press coconut oil so there is not a coconut taste to the filling or crust.
* For the freshest coconut milk make homemade coconut milk. (See video at this link.)
Recipe submitted by Kate, Highlands Ranch, CO
Published on November 21, 2012