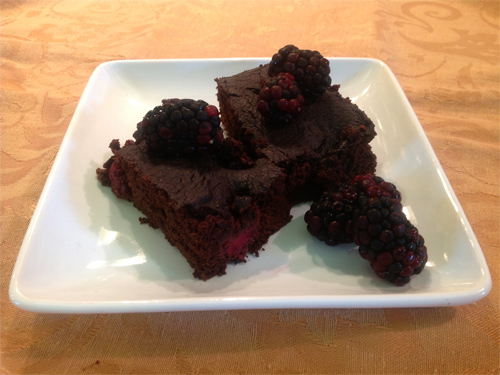 Gluten Free Roasted Blackberry Brownies Recipe
photo by recipe author
Servings: 12
Preparation Time: 15 minutes
1. Roast the blackberries with one teaspoon of sugar in a 450 °F oven for 10 minutes.
2. Set the blackberries aside and turn the oven down to 350 °F. In a bowl, mix the coconut flour, cacao powder, baking soda, salt, and the remaining quarter cup of sugar.
3. Drizzle in the melted coconut oil. Then add the eggs, vanilla, and milk.
4. Gently fold in the roasted blackberries. Spread out the batter in a greased 8×8″ square pan.
5. Bake for 20 minutes.
6. Remove and cool before cutting. Keep refrigerated in a covered container.
Recipe submitted by Cristina, Oklahoma City, OK
Published on August 21, 2013