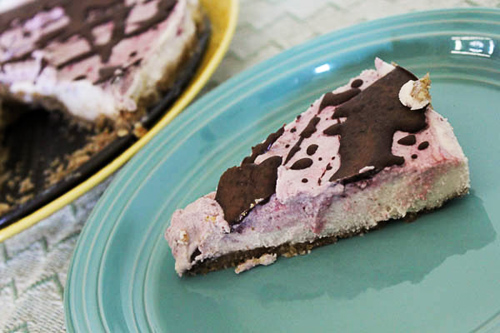 Gluten Free Roasted Strawberry Cheesecake
photo by recipe author
Servings: 12
Preparation Time: 3 hours
Crust
2 cups strawberries, quartered
2 cups nuts, such as walnuts or almonds
1 cup dates, pitted
1 tablespoon coconut oil
1/2 teaspoon sea salt
Filling:
Crust:
Preheat oven to 375 °F.
Place strawberry pieces on a baking sheet lined with parchment paper. Bake for about 15 minutes. Remove from oven and puree until smooth.
Meanwhile, in a food processor or blender, combine nuts, dates, coconut oil and salt for crust. Pulse until smooth. Spread into bottom of a 9″ spring form pan (or pie pan) and press flat.
Filling:
In a blender, combine soaked cashews, sour cream, maple syrup, coconut cream concentrate, and vanilla. Blend on high speed for at least 2 minutes or until completely smooth. Pour mixture into prepared crust.
Place dollops of strawberry puree on top of filling. Using a spoon or knife, carefully swirl the berry mix into the filling.
Place pan in refrigerator to chill for at least 2 hours or until ready to serve. Drizzle with a little melted chocolate if desired. Store in refrigerator.
Courtney from Columbus, KS won $50 for this recipe and photo! Submit your coconut recipes and photos here!
Published on August 10, 2015