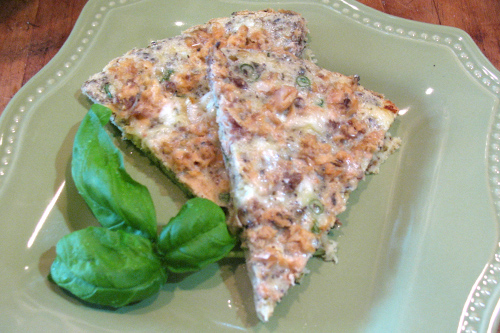 Gluten Free Salmon Pie Recipe
photo by recipe author
Servings: 6
Preparation Time: 10 minutes
This is a quick and easy recipe. Make your Gluten Free Flour Mix up ahead to have handy and it's a snap to make! It is great as a main dish served with peas and a side salad or as a brunch item served with new potatoes and tomatoes.
1/2 cup gluten free flour blend* (see recipe below)
1 tablespoon coconut flour
1 teaspoon basil
1/2 teaspoon fresh ground pepper corns
1/4 teaspoon salt
5 eggs
3 tablespoons melted coconut oil
1/2 can wild salmon
1/2 cup cheese
2 green onions
Preheat oven to 350 degrees F.
Mix the dry ingredients well, stir in the eggs and oil. Pour into a greased pie plate. Top with salmon, cheese and green onion. Bake at 350 for 30 minutes or until set. In the summer time I separate the mix into 2 pie plates and bake only 20 minutes so I don't heat up the kitchen.
* Gluten Free Flour Mix
2 cups brown rice flour (or 1 cup brown, 1 cup white)
2/3 cup tapioca flour
1/3 cup potato starch
Recipe submitted by Linda, Woodland, WA
Published on July 13, 2012