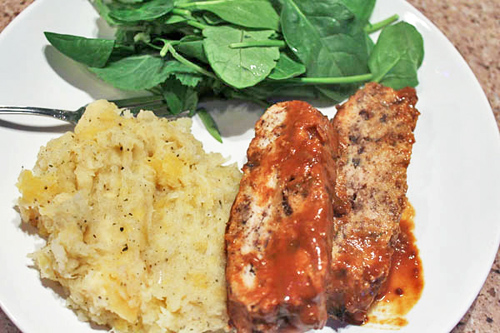 Gluten Free Slow-Cooker Mushroom Meatloaf
photo by recipe author
Servings: 6
Preparation Time: 20-25 minutes
1 pound ground turkey (or beef)
8 ounces portobello mushrooms, diced
1 onion, diced
1 garlic clove, minced
1/4 cup coconut flour
2 tablespoons ground flax seed
2 tablespoons coconut oil, melted
1 teaspoon sea salt
1/2 teaspoon black pepper
1 teaspoon Italian seasonings
1/4 cup ketchup*
1 teaspoon ground mustard
In a large bowl, combine turkey, portobello mushrooms, onion, garlic, coconut flour, flax, coconut oil, salt, pepper and Italian seasonings. Mix together until well combined, form into a loaf and place into a greased or lined slow-cooker. (Place a few strips – about 2″ wide – of foil in your slow cooker so you can easily remove the meatloaf and clean up faster.)
In a small bowl, mix together ketchup and mustard until smooth. Pour over loaf. Slow-cook on low heat for about 6-7 hours or on high heat for 3-4 hours. Temperature needs to read 160 ° F.
Tip: Make two loaves at once and store one in the freezer for later use. Simply thaw in the fridge overnight and re-heat.
Make your own fresh ketchup at home using this recipe – Homemade Fresh Tomato Ketchup.
Courtney from Weir, KS won $50 for this recipe and photo! Submit your coconut recipes and photos here!
Published on January 7, 2016