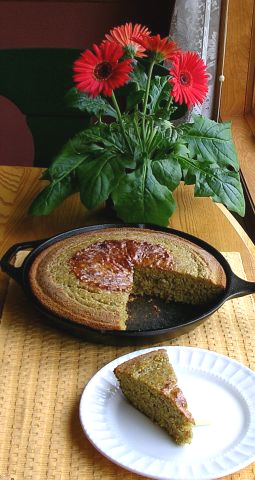 Gluten Free Southern Cornbread Recipe
photo by recipe author
Servings: 8
Preparation Time: 25 minutes
Cast iron skillets make the best cornbread with a crispy crust but you can use a glass pan instead.
2 tablespoons cider vinegar
milk
1 tablespoons coconut oil
1 3/4 cups cornmeal
1/2 cup all purpose gluten free flour
1 teaspoon salt
1 teaspoon baking powder
1 teaspoon baking soda
1/4 cup sugar (optional, true southern cornbread does not have any sugar)
2 eggs, preferably free range
Pour the vinegar into a 2 cup measuring cup and add enough milk to make 2 cups.
Preheat oven to 400 degrees F.
Place the coconut oil in a 10″ cast iron skillet and place it in the oven to heat.
In a large bowl, mix all the dry ingredients with a wire whisk.
Whisk the eggs and the milk until blended. Add a little at a time to the dry ingredients until thoroughly blended.
Check the cast iron skillet and see if the oil has started to smoke. If it is hot enough, remove the skillet from the oven carefully and pour the batter into the skillet. This will make the crust nice and crisp.
Place back into the oven and bake for 20-25 minutes. Test with a toothpick or cake tester and if it comes out dry, the bread is done. You can brush with melted butter at this time. Cool and cut into 8 wedges.
Recipe submitted by Pat, Jackson, WI
Published on May 18, 2012