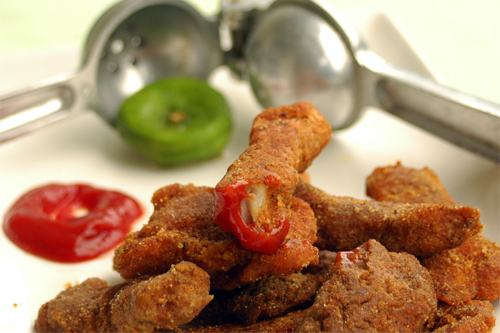 Gluten Free Spiced Fish Sticks
photo by recipe author
Servings: 2-4
Preparation Time: 30 minutes
Recipe: Rinse fish fillets in cold water and set on a plate. Cut fish into short strips, following the lines of the fillets and removing bones (if there's any).
Place eggs in a small shallow bowl. Mix together flours, spices, black pepper & sea salt in another small shallow bowl.
Dip fish sticks in eggs and then toss it in the flour mixture. Set them aside on a plate.
Warm up 4 tablespoons of palm shortening or your choice of oil in a large skillet and heat oil on medium high. Place the fish sticks in the pan and make sure there's enough room around them so that they don't stick together. Cook for a few minutes on each side, until well browned, then remove fish sticks to a plate lined with a paper towels.
Add more shortening or oil (4 tablespoons) to the pan and fry remaining batch of fish sticks.
Serve with freshly squeezed lime and tatar sauce or homemade ketchup.
Recipe submitted by Marillyn, Britt, IA
Published on December 26, 2011