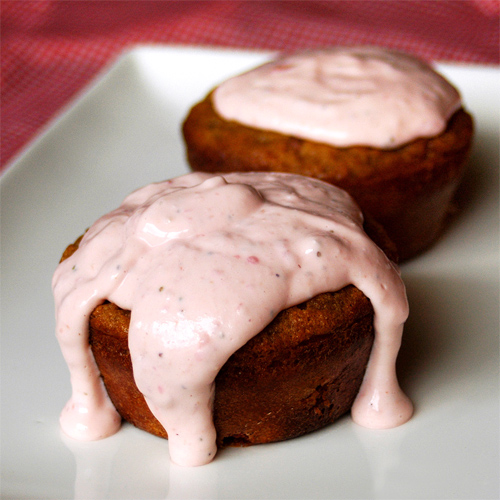 Gluten Free Strawberry Coconut Muffins
Photo by recipe author
Servings: 6-12 muffins
Preparation Time: 10 minutes
Muffins:
Cream Cheese Topping:
1 cup homemade or store bought cream cheese, softened
1 cup chopped strawberries, fresh or frozen
1 – 3 tablespoons raw honey
For the muffins:
Preheat oven to 350 degrees F.
In a small bowl, combine coconut flour, salt and baking soda.
In a large bowl mix the eggs, honey, coconut oil and vanilla until well blended. Mix dry ingredients into the wet, blending with a hand mixer or by hand. Gently fold in strawberries.
Place batter in paper lined muffin tins OR oil small individual glass bowls and pour batter in about 1/2 – 3/4 full.
Bake in preheated oven for 20-25 minutes. Take them out and let them cool and serve topped with Strawberry Cream Cheese.
Cream Cheese:
Place everything in a blender or food processor and blend till smooth. Store in an airtight container in the fridge. When muffins are ready, generously top each muffin and enjoy!
Recipe submitted by Marillyn, Bloomingdale, IL
Published on December 28, 2009