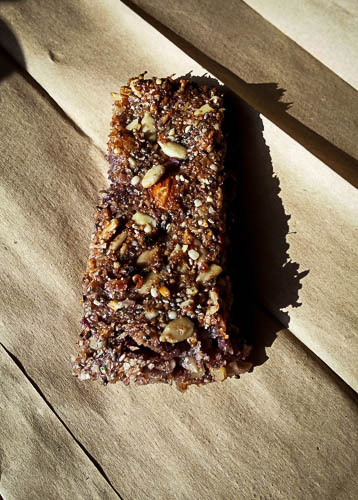 Gluten Free Super Berry Snack Bars
photo by recipe author
Servings: 10
Preparation Time: 45 minutes
1 cup walnuts
1 cup almonds
1 cup coconut flakes
1/2 cup sunflower seeds
1/2 cup pumpkin seeds
3 tablespoons chia seeds
2 tablespoons hemp seeds
8 pitted dates
1/2 cup dried goji berries
1/2 cup dried passion fruit pieces
1 cup blueberries
1/4 cup water
1/2 cup coconut oil
In a blender, pulse together walnuts, almonds, coconut flakes, sunflower seeds, pumpkin seeds, chia seeds, hemp seeds, dates, goji berries, and dried passion fruit pieces. Pulse for about 30 seconds or until nuts and seeds are finely chopped and dates are blended. Mixture should be not be smooth just combined.
Meanwhile, in a saucepan, combine blueberries, water and coconut oil. Bring to a slow boil and cook for about 5 minutes. Pour blueberry mixture in with nuts and pulse a few more times until combined. Pour mixture onto a baking sheet lined with parchment paper. Press mixture into about a 1/2″ rectangle. Bake at 325 °F for about 20-25 minutes. Watch the mixture carefully so it does not burn. Remove from heat and let cool completely. Once cooled, cut into bars. Wrap bars in plastic wrap or parchment paper and store in a sealed container.
Courtney from Columbus, KS won $50 for this recipe and photo!  Submit yours here!
Published on March 25, 2015