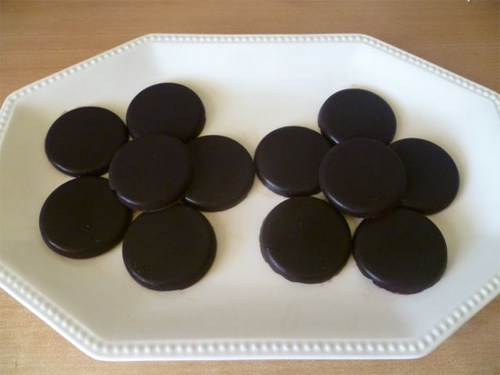 Gluten Free Thin Mint Candies Recipe
photo by recipe author
Servings: 12
Preparation Time: 20 minutes
In small saucepan on low heat, melt together coconut oil and butter (if using). Carefully whisk in cocoa powder and salt and mix till thoroughly combined. Remove from heat. Add stevia and peppermint essential oil or extract. Mix well.
Pour evenly into 12 regular-sized muffin tin cups. If desired, sprinkle 1/2 teaspoon shredded coconut on top of each thin mint. Freeze for at least 15 minutes or until hard. Remove from muffin tins and store in resealable bag in freezer.
Add in different spices, extracts or other goodies to create countless variations:
various extracts, such as orange or almond
coffee granules
different flavors of liquid stevia, such as raspberry or English toffee
chopped nuts
*Maple syrup can be used instead of stevia.
Recipe submitted by Sheri, Camby, IN
Published on August 30, 2012