Ahhh….the recipe you've all been waiting for. Well, maybe not all of you but some of you for sure.
When I posted the first Toasted Coconut Ginger Blondies recipe I promised a gluten free version. So here it is. I was very happy at how they turned out; creamy and moist with a nice chewy texture and toasty crunch from the toasted coconut on top. My mouth is full of said blondies as I type. Seriously.
You can use something else instead of ginger (like chocolate chips or nuts).But that's up to you. I just wanted to get rid of the rest of our candied ginger, so in they went.
Were you waiting for this recipe? Are you going to make it now? Tell me, I'd love to hear from you!
Sarah:)
Gluten Free Toasted Coconut Ginger Blondies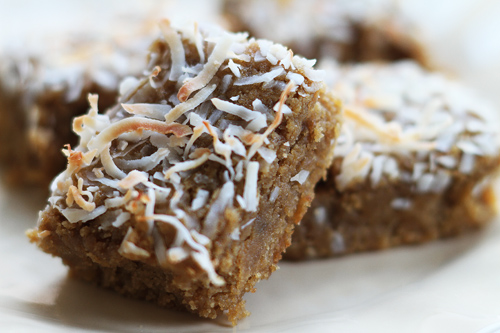 Gluten Free Toasted Coconut Ginger Blondies
Prepared by Sarah Shilhavy, Photo by Jeremiah Shilhavy
Servings: 20 bars
Preparation Time: 15 minutes
12 tablespoons (1 1/2 stick) salted butter, melted
1 cup brown sugar
4 teaspoons vanilla extract
2 eggs
2 teaspoons organic raw whole milk or coconut milk*
1/2 teaspoon baking powder
1 1/4 cups flour mix (see below)
1/2 cup chopped crystallized ginger
1/2 – 1 cup flaked coconut
Preheat oven to 350 degrees. Lightly grease an 7×11 inch pan with coconut oil.
Mix melted butter and sugar together in a medium sized bowl. Beat in vanilla, eggs and milk until well blended.
Mix remaining ingredients except for the flaked coconut into the egg mix until well blended. Pour into prepared pan and smooth the top out. Sprinkle with flaked coconut.
Bake blondies until golden brown and coconut is toasted, about 20 minutes.
Gluten Free Flour Mix:
Mix all ingredients together until well blended. Use as directed.
* For the freshest coconut milk make homemade coconut milk. (See video at this link.)
Recipe courtesy Sarah Shilhavy
Published on May 12, 2010