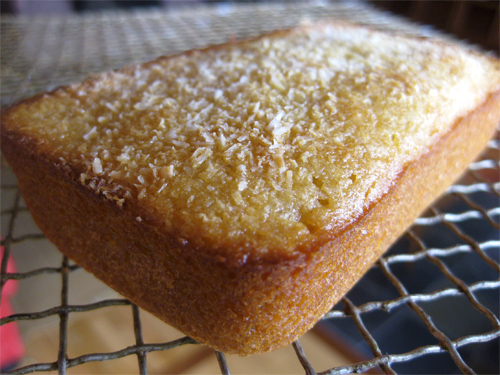 Gluten Free Triple Coconut Honey Cake Recipe
photo by recipe author
Servings: 4
Preparation Time: 6 minutes
Note: I find that gluten-free cakes work well in smaller pans. I use a mini loaf pan for this recipe that measures 3 inches wide by 5 3/4 inches long.
Pre-heat oven to 325 degrees °F.
In a bowl or pan, gently warm the coconut oil, coconut cream concentrate, and raw honey until they can be stirred smooth. Add to bowl with egg and applesauce.
Next stir in flour, baking powder, and salt. Scrape all batter into oiled (I use coconut oil) mini loaf pan. Sprinkle shredded coconut evenly over the top. Bake at 325° for 35-40 or until toothpick comes out clean. Remove from pan and place on cooling rack. Let cool 15 minutes before slicing.
Recipe submitted by Karen, Quincy, CA
Published on January 29, 2014