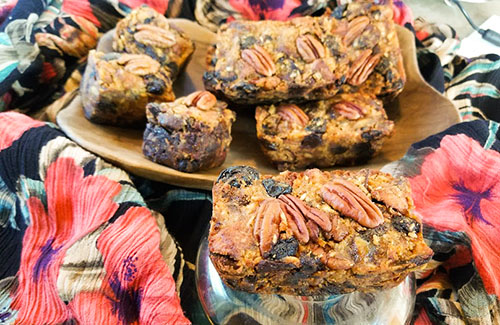 Gluten Free Tropical Pina-Coco-Nut Fruitcake
photo by recipe author
Servings: 12 small loaves and 6 muffins or 24-30 muffins
Preparation Time: 2 hours
1 1/2 cups grated organic apples
1/2 cup orange juice concentrate (frozen)
1/2 cup chopped dates
1/4 cup coconut oil, melted
1/4 cup coconut flour
1/2 cup flaked or shredded coconut
1/2 teaspoon salt
1 1/2 cup rolled oats
1/2 cup walnuts
1/2 cup pecans
2 tablespoons candied (with honey) orange rinds
1 cup dried pineapple chunks
4 cups mixed and diced dried fruits: raisins, mango, figs, bananas, apples, cherries, cranberries, pears,
blueberries, etc.
Mix everything together thoroughly, press firmly into molds.
Bake at 325° for 25 – 40 minutes, depending on whether loaves or muffins are selected. Watch carefully.
Remove from oven and allow to fully cool before removing from molds. Enjoy with cold milk.
Diane from Hubert, NC won $50 for this recipe and photo! Submit your recipes and photos here for a chance to win $50!
Published on December 18, 2017