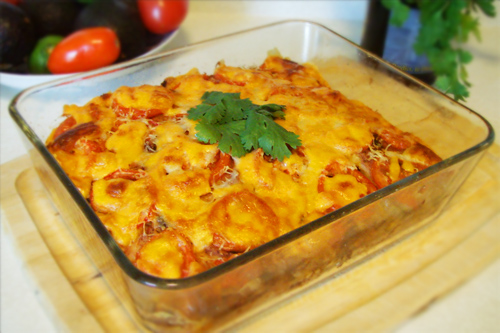 Gluten free Vegetarian Mexican Lasagna
Photo by recipe author
Servings: 8-10
Preparation Time: 15 minutes
1 onion
1 jalapeño
1 green pepper
2 tablespoons coconut oil
1/2 cup frozen corn
1 teaspoon ground cumin
1/2 teaspoon salt
9 6-inch corn tortillas
1/2 cup salsa
16 oz organic refried beans
8 oz shredded cheese
Cilantro for garnish
1. Slice onion, jalapeño and green pepper. Sauté in coconut oil in large saucepan over medium heat until softened but still slightly crisp, 5-7 minutes. Add frozen corn and heat through. Season with ground cumin and salt. Remove from heat.
2. Preheat oven to 375 degrees.
3. Using 8×10″ pan, cut 3 tortillas to cover bottom of pan. In small bowl, combine salsa and refried beans. Spread beans over tortillas and top with half of the cheese.
4. Top with another layer of tortillas and green bean/onion mixture. Top with final layer of tortillas and remaining cheese.
5. Bake, covered with aluminum foil for 20 minutes. Uncover and continue baking another 10-15 minutes until top is golden brown.
Serve topped with cilantro.
Recipe submitted by Tammy, Union City, TN
Published on November 3, 2010