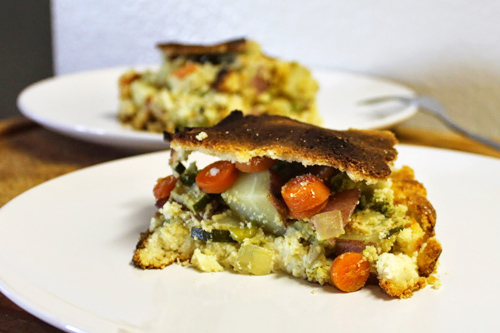 Gluten Free Vegetarian Pot Pie
photo by recipe author
Servings: 6
Preparation Time:  25-30 minutes
Crust:
Filling:
1/2 cup yellow onion chopped (1/2 inch)
2 tablespoons coconut oil
2 1/2 cups vegetable broth
1 3/4 teaspoons cumin
12 cups your favorite veggie (I have used sweet potato, asparagus, zucchini, corn, all have been delicious…experiment and share how it turned out!)
2 small potatoes, cubed 1/2 inch
1 cup carrots, sliced
1/2 cup peas
1/2 cup broccoli
1 tablespoon coconut flour (or as needed to thicken)
Dough:
Mix almond and coconut flour with the salt, then slowly fold in softened butter until it crumbles.  Stir in water by the tablespoon and mix dough thoroughly by hand.  Once dough is mixed, divide in half and roll into balls.  Cover or wrap balls and put in fridge.
Preheat oven to 425 degrees ºF.
Saute onions in coconut oil until they become translucent.  Heat vegetable broth in a medium pot and bring to a boil.  Once boiling add cumin and lower head to medium.  Add coconut cream concentrate.  Add vegetables to mixture and let simmer 15 minutes stirring frequently.
While mixture is simmering take 1/2 the dough and push down into the dish fairly thin and up the sides covering the dish.  Roll out remaining dough to cover top and set aside.  Fill the dish with rolled out dough making sure to fill any cracks.
Once mixture has simmered and dough is rolled out add coconut flour to mixture to thicken the liquid.  Pour mixture into dish.  Take rolled top and lay over dish.  If some cracks or falls apart that's ok just press it back together and fill in cracks.  Press edges together.  Place in oven for 20-30 minutes or until dough is golden brown around edges.
Notes:
*You can grind your own almond flour by placing whole almonds in a blender/food processor and blending until you get a fine meal.
If you want to make this recipe completely vegan just substitute earth balance for butter.  Also coconut oil may work, but I haven't tried it yet.
I use frozen broccoli florets and frozen peas to save time and it turns out great.
Sara from Austin, TX just won $50 for this recipe and photo! Submit yours here.
Published on January 9, 2015