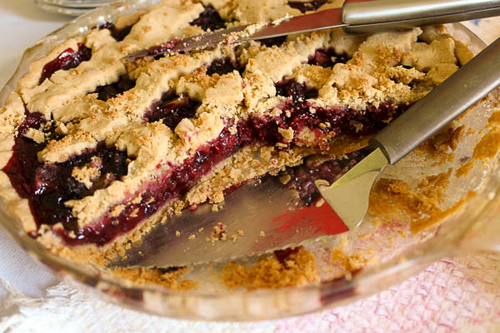 Gluten Free Wild Blackberry and Rhubarb Pie
photo by recipe author
Servings: 10-12
Preparation Time: 1 hour 30 minutes
Never Fail Pie Crust:
Filling:
3 cups fresh blackberries
2 cups fresh rhubarb, diced
3/4 cup sugar
1/4 cup gluten free flour blend*
2 tablespoons coconut milk**
1 teaspoon ground ginger or 1 teaspoon ground cinnamon, optional
Combine flour, sugar, salt and baking powder in a mixing bowl. In a small bowl, whisk together egg, vinegar and water. Cut in about 2/3 cup cold coconut oil or shortening into dry ingredients until mixture is crumbly.
Pour in egg mixture and mix until dough ball forms. Add more water or flour to get desired dough texture. Divide dough in half. Place dough ball onto a lightly floured surface. Roll out dough until about 1/4″ thick.
Gently lay pie crust into a 9″ pie plate. Reserve the remaining dough for the top of the pie. After pie has been filled, roll out remaining dough and cut as desired for topping: lattice, whole, shapes, etc.
Combine berries, rhubarb, sugar and flour in a large bowl. Pour into uncooked pie crust. Add remaining 2-3 tablespoons coconut oil or shortening on top of berries in little pieces. Top with remaining pie crust if desired. Brush top of pie with coconut milk.
Bake at 350 °F for about 50 minutes. Filling should be bubbly and crust should be slightly brown. If edges of pie start to brown too quickly, cover with foil.
Let pie cool about 10-20 minutes before cutting and serving.
Note: Got leftover pie crust? Form together and roll out again on a floured surface. Cut or shape as desired. Place crust pieces on a large cookie sheet and sprinkle with sugar and cinnamon. Bake at 350 °F for about 10-15 minutes, or until golden brown.
Enjoy with home made ice cream. Recipe here.
*Gluten Free Flour Mix:
Makes 3 cups
2 cups brown rice flour
2/3 cup tapioca starch/flour
1/3 cup coconut flour
1/2 teaspoon xanthan gum
Mix all ingredients together and use as directed.
**For the freshest coconut milk make homemade coconut milk. (See video at this link.)
Courtney from Columbus, KS won $50 for this recipe and photo! Submit yours here!
Published on July 6, 2015